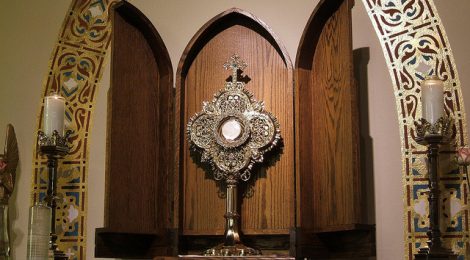 I was unexpectedly favored with a visit with Our Lord in Eucharistic Adoration this past weekend.  I am fortunate to live near the only officially approved Marian apparition site in the US (bonus points if you can name it).  The Shrine has begun hosting youth group on Sunday and Monday nights for area high schoolers.  As the mother of a high schooler, and owner of a bus, we volunteered to take a group to the first session, not knowing much about what to expect.  It was really good; the teenagers enjoyed themselves and the material was theologically sound and deep.  The evening ended, as each session will end, with Exposition of the Sacrament and an opportunity for Confession.  I was unprepared for either, though I had grabbed my kindle with prayers on it.  I didn't feel a strong desire for reading prayers in His Presence, instead knelt quietly.  I'm new to this.  I may have encountered Adoration once before. I tried to quiet my thoughts.  I tried to still my voice that always tries to fill the silence in my head with talking at God.  I'm not good at listening, and I wish to improve.  I looked at Him, and wished I'd sat near the front.  Instead I chose the back, because this was about the kids after all.
One passage resounded in my head.  "My God, my God, why have you abandoned me?"  I tried to still it, but it persisted.  So, I thought maybe this is what I should meditate on.
I had a rough adolescence.  My parents divorced as I was entering puberty, and it got much worse before it got better.  Abandonment is my biggest fear.  I have felt rejection and abandonment even in our home parish, for bearing many children, for breastfeeding during Mass, for trying to be (openly) faithful to the Church, even in difficult matters.  I have let this feeling of rejection and abandonment color my relationship with my Savior.  But I felt the Lord is trying to bring acceptance and healing.  Our time was short, and I was unable to fully unpack my thoughts and feelings.  I'm looking forward to taking the kids back to youth group next week, and even prepare myself for Confession.
What is the Lord teaching you this Lent?