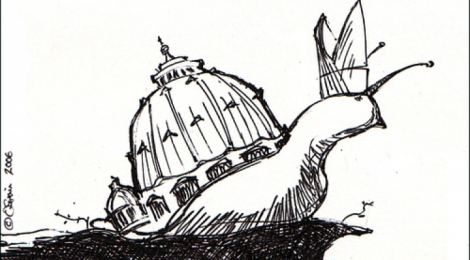 Guest post by Owen Swain.
Slow? Oh I know, I hear some people adding ponderously slow while others go so far as to be flat out rude. But I think we all know of instances where a person or even an entire organization took an abysmal dive for lack of foresight and insight.
Some folks think what old Solomon asked for was a lot of wives but the one thing he sought the Lord for was wisdom, divine and holy wisdom. Even when Her individual members are not one, holy, catholic and apostolic, the Church is and in part this is so specifically because She moves carefully under the guidance of the Spirit and always for the good of the faithful and the Gospel mandate.
God is good, dear Reader. Welcome or Welcome back to Snailville.