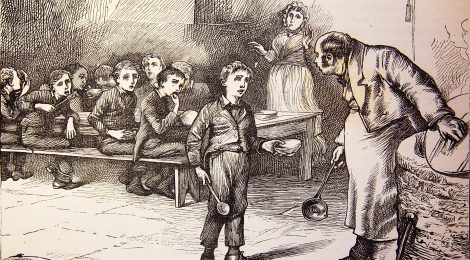 Sometimes when I talk to protestants, I feel like Oliver Twist sticking out his bowl and asking, "Please, sir, can I have more?" I'm hungry! Hungry for the Holy Spirit. Hungry for Grace. Hungry for Mercy. Hungry for mystery and understanding.
Maybe I'm a glutton? I'd like to drown myself in it, be fully inebriated in the Spirit. But most of all, I'm hungry to see that same hunger reflected in the believers who surround me.
Sadly, folks, that is rare. I stick my bowl before those I love, and am trotted directly out the door for the audacity of presuming that the faith may require something of me. I've had my fill of a portion; I should be content and at peace, like all the rest.
Folks, that isn't peace! Don't confuse inertia with peace. Praise be to God we do not serve some lord of an orphanage. Our God loves to fill us up. He can't wait for us to cry, "Please, sir, can I have more?" He is waiting to flood us with His Spirit and Grace, and inspire us to do something with it!