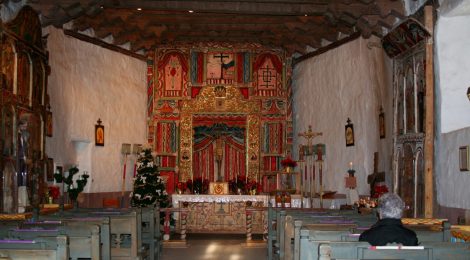 Holy Water; Holy Salt; Blessed Sacramentals; First, Second, and Third Degree Relics; Lourdes Water; now add to the list, Holy Sand.  Has the Church lost its collective mind?  Why are Catholics so superstitious, or are they?
My two oldest children have just returned from a two-and-a-half week stay with their Great-Aunt and Uncle in New Mexico.  Along with lots of horseback riding, hiking and indulging in wheat and dairy, they also visited a number of Churches and Shrines, with accompanying unique history, architecture and pious legends.  One notable destination was the El Santuario de Chimayo Shrine, from which the kids brought home Holy Sand.
The story, as briefly recounted to me by my daughter, is that a cross was found buried in the sandy soil.  Being removed, it was repeatedly rediscovered back in the ground from which it had come.  Eventually a Church was built on this spot and remains there today.
Many healings have been attributed to the use of this sand.  The Great-Uncle who brought my children to this shrine is soon undergoing surgery on his shoulder.  The kids wanted him to try the sand, but he told them, "That stuff doesn't work."  No, in and of itself, he is right, it doesn't work.  Without faith, we are indeed treading into superstition.  But God has a unique relationship with his creation.  Mix a little spit and dirt with a particle of faith, and miracles can happen.
It is not the dirt which saves us, but the faith in God, evidenced by the use of the dirt.  The New Testament is full of God's healing powers working through created objects, from Christ dabbing mud onto blind eyes, to Peter's handkerchiefs being brought to the sick, even contact with just his shadow resulted in miraculous healing.  God is so Good!  Even just one small step of faith, confusing and ineffective it may look to outsiders, is met with the Grace of God who delights in the love of His creatures! Only say the word, and my soul shall be healed!