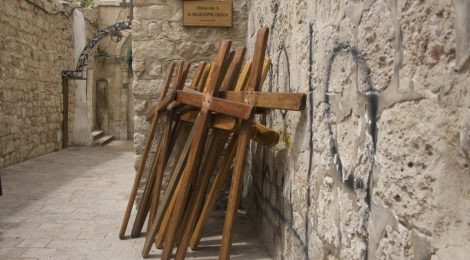 My brethren in Christ never cease to amaze me.  Perhaps they are some of the most illogical souls that I can't help but love but never the less they drive me crazy.  Christians seem to have an uncanny ability to categorize God into their comfort zone.
God is able to speak about spouses, jobs, kids' names, houses, cars, every pleasant thing under the sun,  but the moment God speaks and discomfort is faced they turn deaf to the loving voice of the Father. If called to be King ears are wide open, if the call is to be servant of all the voice of God fades.
Here's the deal–all is from God, good and bad.  And it is not for our bad, all is good, even if it doesn't feel so good.  In fact, they are robbing themselves of the the work of Christ in their lives.
They even make up ministries and ask God to join them in what they are doing.  God may even condescend for the salvation of souls, but I am afraid they have missed the mark of the high calling in Christ Jesus our Lord.
Our Lord did not dance to the Passion; it was born in tears of blood.  Peter carried his passion, Mary carried hers. Does anybody celebrate the life of John Smith?  Only in blood and tears is the kingdom born, and celebrated.  People wonder, where is God?  Why is it taking so long?  I think the Lord may be asking that question about you while you're groping around in the desert for forty years.
Why isn't New Testament power felt and seen in my life?  Perhaps we are not living New Testament love and sacrifice.
Even when we think we are at God's surrender, we're not.  Our will be done, whether apathy or zeal.  The Catholic Church is the bride of Christ; it is as plain as the stars of heaven, yet this remains the giant obvious that blinds over a third of Christendom.  Just think!  Over a third of Christianity can't see the Ecclesiastical body of Christ on earth!  And why not?  It's quite simple–after all discussions, options, arguments, unbelief, it comes down to one thing, an imperfect heart.
God is not hiding, we are!  Yet we want Him to bless us in the context of our modes and desires.  The absurdity of it all is that at times He does, even in spite of us.  We want God to move on our behalf, but we don't want to move on His.
The basics: submission to Church authority, and trusting God with the number of our children. Take these two simple, primal Christian precepts that should be basic to us all and all of Christendom would be turned on its head.
I've seen so many miracles in my life that it seems common, even as I flounder toward the will of God.  He has graced my family.  Every step we take toward the divine will, favor falls, hilarious grace.  But it was born in the pain of doing God's will and not my own.  Basic Jesus stuff that if I were honest, most Christians do everything in their power to avoid.
"Lord give me a legacy", while they've used birth control with their two kids–how silly of a request.  "Lord show us your power and glory", while they refuse to submit themselves to the Catholic Church.
Jesus Controllers, want the benefits of His love, without the meat and substance of simple obedience, thinking I'm called to be a pastor and called to break the life-giving dynamic in my biological make up. I can't give my wife life in her womb according to nature, but I can give away super-nature.  Does anybody hear how stupid this sounds?
I have pastor friends, evangelists, you name it, and they want to bring Christ to the world but not even to their loins!  They want authority, but refuse to come under God's authority.  Quit preaching and teaching and just do the basics!  That's hard enough.  And after you've learned a bit about a real walk then perhaps God will give you something real from Him, instead of all your silly maneuvering.