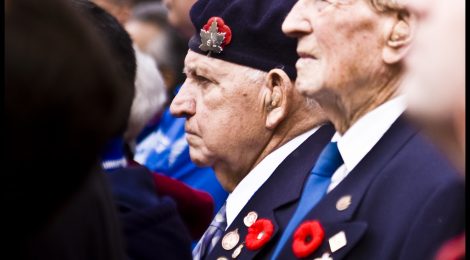 Last night, in the aftermath of the election, I played a Veteran's Day concert.  As I stared out from the stage at all the men who offered themselves in service for our nation, I felt mournful.  What have we done to with their sacrifice?  Have we honored it in any substantial way?  Have we taken care with our Liberty?  What about our Church?  How could we have gone so far as to harden our hearts to the plight of the most vulnerable among us.  This is not about who won or lost the election.  It is about a nation which actively chooses policies of death.
The time for penance and repentance is now.  And it starts with the Christians.  I'm not even claiming the trope that we are a Christian nation, but we are a nation filled with Christians.  As I look around at what is acceptable behavior, though, there is something seriously wrong.  We've thrown our lot in with death.  We thought birth control was prudent and would help us be prosperous, and it has gutted us.  We've denied our children life, and we'll deny the survivors a future in favor of the now.
And what does penance mean to us?  We've become too modern to do penance.  Catholics sit in a box and mouth their dark secrets, and walk away and call it Penance.  Protestants kneel before their bedside in the secret of their room, but I've never heard them call that or anything Penance.  Maybe the closest they come is walking the aisle, moved by a sermon.  But we moderns, we're too high for the sackcloth and ashes.  We're superior to mortifications.  We, personally, don't believe we commit big sins and for those who do, "It's between them and God."
Revival begins with repentance, and our world needs revival.  We need to remember how to repent.  In honor of all those who have given their lives to serve and defend an ideal, I repent for letting the discomfort of bearing the truth to keep me silent.  I repent of hardness of heart.  I repent of allowing convenience and prosperity in the temporal cloud my spiritual vision.  I repent of failing to love my neighbor.
Last night, as I began this post, I got a little lost on where I was going.  This morning, as I read today's Gospel, I realized God wanted me to wait for today's Gospel:
Luke 15:1-10.
Tax collectors and sinners were all drawing near to listen to Jesus, but the Pharisees and scribes began to complain, saying, "This man welcomes sinners and eats with them."  So to them he addressed this parable.  What man among you having a hundred sheep and losing one of them would not leave the ninety-nine in the desert and go after the lost one until he finds it?  And when he does find it, he sets it on his shoulders with great joy and, upon his arrival home, he calls together his friends and neighbors and says to them, 'Rejoice with me because I have found my lost sheep.'  I tell you, in just the same way there will be more joy in heaven over one sinner who repents than over ninety-nine righteous people who have no need of repentance.  Or what woman having ten coins and losing one would not light a lamp and sweep the house, searching carefully until she finds it?  And when she does find it, she calls together her friends and neighbors and says to them, 'Rejoice with me because I have found the coin that I lost.'
In just the same way, I tell you, there will be rejoicing among the angels of God over one sinner who repents."
How much more rejoicing over an entire nation that repents.  It starts with you and me being willing to accept the challenge, and to offer up our mortifications for our people, our society.  We need to bend our knees and fall on our face.  Not just figuratively, but really and truly.  Praise the Lord, He has chosen me to suffer.  May I offer it back to Him with joy.